Putin: Meunyoe Amerika Ji Timbak Rudal u Rusia, Rudal Rusia Pih Troh u Amerika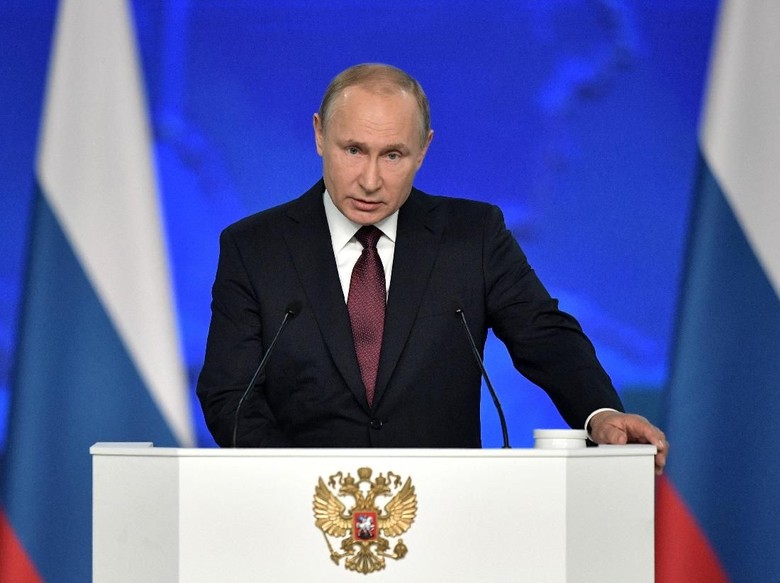 Nasaja Berita – Rusia,
Kalinyoe ka geubalah geurtak le Presiden Rusia, Vladimir Putin terhadap Amerika Serikat. Icaih that pak Putin kalinyoe neukiraju, gara-gara Amerika ka ji langgar aturan dan kesepakatan awai masalah rudal, INF nan jih, aleh pu kepanjangan jih pih hana Apa teupu. Nyang inti jih nyan kesepakatan atawa perjanjian Amerika ngon Rusia bhah larangan teumimbak rudal jarak pendek. Kesepakatan nyan ji tandatangan di Rusia bak thon 1987 awai.
Seugolom jih Amerika ka ji peulheuh droe dari kesepakatan nyan. Alasan awak neugara si Donald Trump nyan, ji peugah gara-gara Rusia ka ji langgar kesepakatan nyan. Tapi Rusia kalheuh ji klarifikasi, nyang bahwa Rusia hana ji langgar meusipadee pih bhah kesepakatan nyan. Nasaja di Amerika bak ji mita karu. Asai na seulah laju ji meulop. Teuman Rusia pih han ji tem peulheuh angen kalinyoe.
"Amerika sit ka ji langgar aturan nyan, hana karu-karu ka ji peuduk pangkalan di Rumania lengkap deungon pelontar rudal. Ka trep ka, dan hana diakui nyan ata awak Amerika." Meunan kheun Pak Putin dikeu dewan dan elit pemerintah Rusia.
"Meunyoe Amerika jikerahkan rudal melalui neugar-neugara nyang na di benua Eropa untuk jak peukaru Rusia. Bek ji pike cuma ta balah u neugara nyan wap ji timbak tanyoe. Meunyoe peurle keudeh u Amerika ta peu keu meu dua neuk. Seubab sit awak nyan tukang provokasi dan cok keuputusan untuk ji tmbak tanyoe melalui neugara nyang na di Eropa." Kha that Pak Putin.
Nyan Amerika jeut peuget pu nyang galak, pike lagee h'eut droe ju. Teuman meunyoe ji tu'oh keumira, beu ek ji keumira sit. Bek jak coba-coba ngon Rusia, na can meuramah somprong eunteuk. Lheuh ji ramah ka teulah dudo, saweub ka meudarah jaroe. Meunan haba Pak Putin nyang mudah ta mephom lam bahsa Aceh. Berita ata Apa baca bak
detik
beuklam seugolom teungeut. Awak detik ata di cok bak AFP ngon Reuters di Eropa sideh, ka ji balek bahsa. Saban lagee buet Apa bak
nasajaberita
sit.
Nasaja di awak Amerika ngon Rusia. Na geu brie leubeh bacut le Poe ka reman hana meupu dum. Nyang pah nah ta cut'iet bak kulet pruet mandua jih. Pak Putin ta cut'iet, Si Tromp bek ta cut'iet, ta usuk mantong, dang-dang ta trom meu beujungkat aki u langet. Lagee nan jih. Nasaja kiraju.